 queenmagnolia's Clan

I love Spirals
Venerable Lair
of the
Twisting Crescendo

---
~~~

Magnolia has a odd half'n'half history, with the Elder living in it alone for years, making it an old lair, and the new Spirals bringing young energy to the place, creating new history for the Outpost and remaking it anew.

The Elder Masaiyah brought new life into her home and she has proudly watched it flourish. She has watched her home expand to hold all the dragons and when they moved lairs, she could not have been more satisfied. They left behind the Outpost in the Zephyr Steppes, and declared their home in the Reedcleft Ascent to be a Realm, the Magnolia Realm. One day, they will move into the Cloudsong, taking their place in the sky like Elder Masaiyah had never even dared to dream of. She still must pick her heiress to lead the Realm but her future is bright.


~~~
---
Wishlist!
Antique Lace set
Solemn Healer set
Lightning Crown
More bows!! Any color!
---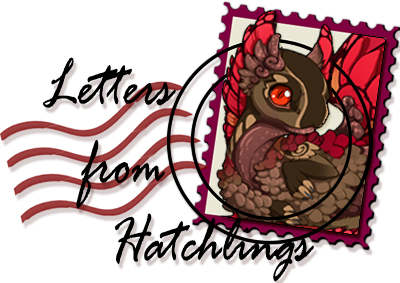 ---
As a lair dedicated to raising hatchlings, having an excellent school system is paramount!
Magnolia's Teachers, living in the Reedcleft Ascent's school:
Sapphira:
Teaches reading and writing. Important skills for hatchlings to learn!
Thalia:
Writing teacher. She works as a scribe for the lair but teaches Sapphira's more advanced class on her slow days.
Circe:
Teaches how to hunt for food, for insects in particular, the main course of Magnolia Realm. (Mate to Freyr)
Sky:
Geography teacher. With how most of the hatchlings end up traveling the world, it's important to know where they're going. She loves traveling herself but hasn't the time lately. (Mate to Skyarian)
Tanja:
Beginners' magic teacher! Teaches the basics of magic to magically-inclined hatchlings. They graduate from her class to work with the more specialized teachers.
Unakite:
Experimental magic teacher! Basically your favorite science teacher who lets you blow up stuff. Brother to Latamani.
Primrose:
Teaches some fancy magic techniques, a more specialized class to Unakite's general.
Volkan:
Teaches fire magic to fire-inclined hatchlings. And he helps with Unakite's fire expiraments.
Piroska:
Druidic magic teacher. She doesn't get many students and so mostly teaches general nature magic.
Peachpie:
Crafts teacher! The Windswept Plateau is full of bamboo to make furniture and secure nests for parent dragons. He also helps the gardener tend to the flowerbeds. (Mate to Frigga)
Telesphoros:
Peachpie's teaching assistant. He passes down Wind Region's secret to making their special kites and floating lairs, to only wind-hatchlings.
Magnolia's Experts, living in the Twisting Crescendo:
Cinna:
Expert dancer. Very poised and graceful; she works with Iona to teach etiquette to older hatchlings, not quite a teacher. Willing to apprentice anyone searching for their place. (Dating Sweetheart and Arzani off and on)
Candelaria:
Senior Healer- is too busy to take apprentices regularly but once in a blue moon. (Girlfriend of Pumpkin and Volkan)
Chernobyl:
Alchemist of Magnolia Realm. Doesn't often take apprentices but likes to teach. Unfortunately, baby spirals and a bubbling pot is a recipe for disaster!
Foretold:
Healer. An extremely unsettling dragon with a mysterious past and an assassin familiar. Doesn't take apprentices because he accidentally scares them off. (Mate to Iona)
Rosamere:
Samurai. Loves teaching her samurai ways to other dragons but hard to find dragons willing to be as dedicated as she likes. If she has an apprentice, she moves into Twisting Crescendo but normally she stays with her husband in the Zephyr Steppes. (Mate to Bathor)
Lumi:
Seamstress. One of the oldest members of the lair. She always puts others' needs before hers- she always looks to buy things for others before her, hence still not having the full Antique Lace set. Always looking to find apprentices to help her with the tailoring of clothes for the whole lair.
The Twins Freyja and Freyr:
Craftsmen (Craftsdragons?). Their speciality is silverworking and making delicate little details. Freyja's masterpiece is a draping wisteria curtain made of such light silver, sunlight glows though it. Freyr's masterpiece is an homage to their home and a gift to Masaiyah, a beautiful set of Fae-sized writing utensils, topped with tiny bundles of magnolia flowers. They take apprentices together as joint mentors. (Freyja is the mate of Sansevieria) (Freyr is the mate of Circe)
Thalia:
Scribe. Although she's also a part-time teacher, she takes on apprentices to become master scribes like her! It took her a while to find her place in Magnolia Realm but being a scribe suits her immensely. Mother of Telesphoros.
The Twins Sweetheart and Sweetpea:
Bakers of delicious pastries for Magnolia Realm. Everyone loves their cupcakes! Hatchlings and sprinkles don't mix and so they only take young adult dragons as students. (Sweetpea is the mate to Kiran) (Sweetheart is Cinna's boyfriend)
Magnolia's Miscellaneous Members:
Masaiyah:
Elder of the lair. The old fae dragon who started everything and brought the spirals into the lair. She lives in the Zephyr Steppes to see the new hatchlings.
Frigga:
Philosopher. A very dreamy dragon with her head in the clouds! Sister to the twins Freyja and Freyr. Friend to Chesser- they love being super dramatic with 'visions' and 'prophecies'! She lives in the Reedcleft Ascent with her husband. (Mate to Peachpie)
Latamani:
Rogue. His job as a rogue means he is a very good spy and thief, and is often traveling. A very creepy dragon but a fondness for hatchlings of the Magnolia Realm has him bringing home stolen toys and treasures. Brother to mage Unakite. He lives in the Twisting Crescendo.
Fayruz:
Messenger. One of the first members of Magnolia Realm and a favored spiral of Elder Masaiyah. She's the fastest dragon in the lair and has a good memory for remembering messages that can't be written down on paper. She lives in the Twisting Crescendo.
Kiran:
Protector. He was rather distant before becoming mates with Sweetpea. Even when Cinna the dancer caught his eye, he barely stayed a moment with their children, too busy patrolling and protecting Magnolia Realm. However, he found himself trying to connect with his daughters by Sweetpea, and his wife appreciated it. Hopefully when his next nest settled, he'd be a better father. He lives in the Twisting Crescendo. (Mate to Sweetpea)
Pumpkin:
He was the cutest baby, or so he's been told. He is a little spoiled and never quite claimed a title in the lair. He lazes about mostly but is the most doting father, and Candelaria is often too busy, and so he's the one who watches their children most often. And the others' kids. Maybe his title's babysitter but that's much too undignified a title for him. The hatchlings love playing with his feather adornments. He lives in the Zephyr Steppes. (Candelaria's boyfriend)
Iona:
Diplomat. A silvertongue, she's skilled at smoothing over ruffled feathers and making allies. A daughter of Magnolia Realm, one of the first hatchlings and one of the only ones to stay, she's quintessentially Wind and everything Magnolia Realm wants to do: raise and educate hatchlings to the best of their ability. She also helps Cinna in her etiquette classes, though not a true expert like the dancer is. She lives in the Twisting Crescendo. (Mate to Foretold)
Arzani:
Prince. As the only dragon with filigree, he is in an odd position in the lair. Most of the others have opal genes and his filigree presents a 50/50 chance of his overpowering theirs. He'd feel like an outsider but Cinna, such a beautiful dancer and so graceful, makes him feel so welcome. He's a lovesick Prince, fallen for the dancer. He lives in the Twisting Crescendo. (Cinna's boyfriend)
Marisol:
Princess. As a beautiful coatl of the wind element, she's treasured and called a princess. The title mostly gives her leave to pursue her own interests- to which she likes to paint with watercolors. Perhaps they're not masterpieces, but she likes them. He lives in the Twisting Crescendo. (Mate to Lir)
Raindrop:
Sage magic. As it's a very specialized field, he doesn't teach it or offer apprenticeships to the normal batch of hatchlings. However, Periwinkle rather twisted his ear and had a natural inclination for it. He's hoping to convince her to take the full sage set and become on par with his level of expertise. He lives in the Twisting Crescendo.
Periwinkle:
Apprentice to Raindrop. She doesn't want to learn the full sage magics, though he's making a dent in her arguments. Although she was born abroad, she's a hatchling of Magnolia Realm, one of the few to stay. She lives in the Twisting Crescendo. (Mate to Ekaitz)
Connelly:
Helper. As one of the early members of Magnolia Realm, Connelly was spoiled for choice of his role in the lair. However, he couldn't choose just one. So many things needed doing and everyone needed help. Especially the Elder Masaiyah. Although the lair has expanded exponentially since then, Connelly still is her favorite assistant. He's a sweetheart! He lives in the Twisting Crescendo.
Skyarian:
Samurai. Skyarian met a beautiful bright blue spiral while she was traveling and they fell in love at first sight. She had to go back home when her trip was over though and Skyarian became so heartsick, he chased after her. When he came to Magnolia Realm, he was inspired by Rosamere and worked to become a samurai too. He lives in the Twisting Crescendo. (Mate to Sky)
Diantha:
Ice-fisher. She is the self appointed fisher for the coatls' fish food needs and is the designated translator between the coatls and the fae Elder Masaiyah. She lives in the Twisting Crescendo.
Chesser:
Oracle. One of the early members of Magnolia Realm. Only recently got his very cool outfit, suited to an Oracle! Friends with Frigga- they both like being super dramatic about 'predictions' and 'omens'! He lives in the Twisting Crescendo.
The Twins Viorel and Liviu:
Scouts. Joined at the hip (or the wing!), they map the territory of Magnolia Realm for the protectors to patrol and love to race each other. They live in the Twisting Crescendo.
Taalay:
Paramour. Refuses to settle down and has a lot of love to share! A flirty boy with magic that he passes down to his kids. He lives in the Twisting Crescendo.
Bathor:
Eggsitter. An anomaly of a spiral, he is a very sedate dragon and finds himself suited to eggsitting. He lives in the Twisting Crescendo. (Mate to Rosamere)
Sansevieria:
Gardener. As no one in Magnolia Realm eats plants, he's free to tend to the garden without fear of a hungry hatchling making a snack out of it. Peachpie helps him in between classes. His garden is on the Zephyr Steppes but his home is with his wife in the Twisting Crescendo. (Mate to Freyja)
Ekaitz:
(Mate to Periwinkle)
Star:
Lir:
Recent Clan Activity
[View All]
09/19
Became friends with KaijuGuts.
Maybe in a few years they'll write a buddy comedy about you guys.

09/17
Birthed new hatchlings!
2 Spiral Female

09/10
Birthed new hatchlings!
1 Spiral Male

queenmagnolia's Friends (14)






View All