 PoisonedTea's Clan

The Trickster of The Arsenic Secrets
Mighty Lair
of the
Wispwillow Grove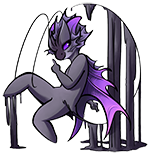 "Welcome one and all, to the Clan of the Arsenic Secrets! Please, feel free to wander around, we will not bite...And even if we do, it won't hurt that much...Hehehe...

We value the darkness and shadows, though a good secret will definitely catch out attention.
We are the travelling circus full of secrets...They all whisper in our minds, and some of them drive us insane. But till death due us part from this world, we will never let them loose.
Our clan is full of the homeless, ones who are lost, ones who were left behind. Most of them have a very sad and dark past, but you wouldn't be able to tell. They have all hidden the darkness deep within their soles and under a mask.

This clan...How shall I say it? We should not be trusted...Sometimes we might let insanity get a hold of us, though the whole of the clan doesn't even know what I -the leader- can do. No..the young ones and the old..Even the most trusted family, friends and clan mates will never know about my dark secret..."

~~~~~~~

The purple Coatl in the Shadows smirks, pulling the guise lower over her eyes. She has she long tail wrapped around her body, with her claws neatly tucked down behind her tail. A dark colored Coatl who seems to melt into the shadows stands behind her, adjusting his glasses, a black fedora is at the ground beside him, along with a gleaming dark-red sword. He sighs. "When are you going to tell everyone? Am I really the only one you trust? Not even Kirina of all dragons?!!" He semi=yells.
"I don't know how they will react...but honestly, I don't care anyways. But don't you get started about how I should tell them then. I have pride you know." She replies, smiling, showing off her sharp fangs. She then raises one claw, and gently blows on it, daring him to say more. The dark colored Coatl sighs again, looking extremely grumpy.

"Whatever you say m'lady." He bows low, and then picks up his fedora and with a quick flourish, places it on top of his head. His sword is in his claws in the second it takes to blink, and then the Coatl is gone.

"Why am I always pushing everyone away?" The purple Coatl finally says, tucking her head under her tail.You then finally see the tears slowly dripping down her snout.


---
Q and A for the Clan of Arsenic Secrets!

Q. Does your clan trade with any other clans? Any allies? Enemies?
A. We don;t have any allies sadly...I would love to get some though! Enemies...We also have none. I would like to keep it that way!

Q. Who trains future warriors?
A.Terminator and Neo! As well as Ice Queen, NightSpring, and Serendipity occasionally!

Q. Who is best couple in the clan?


A. HAHAHAHAHAHA. TERMINATOR AND CEINLYS CLAWS DOWN.
Recent Clan Activity
[View All]
02/26
Earned: Level 40 Scavenging
Reach a level of 40 in the Scavenging skill.

02/26

Earned: Level 40 Digging
Reach a level of 40 in the Digging skill.

02/26

Earned: Level 40 Foraging
Reach a level of 40 in the Foraging skill.

PoisonedTea's Friends (23)





View All