 Methone's Clan

Clan of the Hour of Twilight
Mighty Lair
of the
Wispwillow Grove

CLAN OF THE HOUR OF TWILIGHT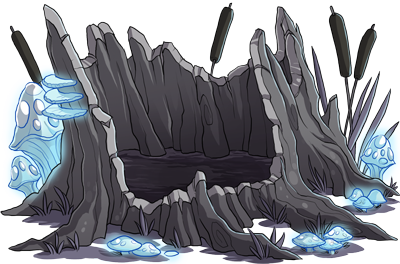 Formation
Dug out of the riverbanks of the Driftwood Drag, the lair was originally meant just as a shelter for the adolescents Selriona and Madock. But after they carved - well, mostly Madock, as he regularly teases - out a home here, they decided it was as good a place as any to settle down. After all, they'd been together since they were hatchlings, and having a place to return to was an appealing prospect. And so one chamber to sit out the rain became a hoard, a resting place, a nursery...
The lair isn't much right now, large enough to accommodate forty-five dragons comfortably. Fifty if they squish. The hoard is meager, a pile of golden coins barely the size of a fae dragon with only a few dozen sparkling gems. But the dragons who live here, following in Selriona and Madock's pawprints, are close and get along. It's a tight-knit family.
Moving Day: December 2nd, 2017
For a while now, the lair's been getting quite large for something originally intended to be a rain shelter. Its underground tunnels stretch far and wide, but the Driftwood Drag simply wouldn't support it much longer.
So Xylona and Uther went out, and came back with their maps of Wispwillow Grove. Clan meetings were held, and logistics - endless, deceptively complex logistics - were handled. Then it was settled. The hoard was placed into chests. Oceanhunter and Sapphire's eggs were loaded into a straw-filled cart.
And with that, the clan set out to Wispwillow.
Once they arrived, they found the cavern already ready and waiting for them. Selriona's magic and Periwinkle's claws cleared out the local fauna making their homes in it, and they got to work. New nesting grounds were chosen, a new hoard, and so on. Before long, the clan had moved in.

By now, the clan has grown to quite a respectable size. Their gathering and harvesting expeditions bring in a substantial amount of food and valuables, more than they could use, so they've taken to trading with their neighboring clans; they're growing into something to be noticed.
Walking into the lair, you wouldn't think twice. Just a circular tunnel of stone leading into the sparkling, enchanted Wispwillow Grove. But within, it's something else. Faint, haunting blue lights line the walls, providing all the light the non-shadow dragons need to see. Dragons scurry about on their tasks, with some hanging out in alcoves talking happily. There is room enough for seventy dragons here, easily. The hoard has grown substantially, with thousands of golden coins and a fair hundred of sparkling gems.
The air is one of work, of organized confusion, of a clan still getting used to its new place in the world.
Recent Clan Activity
[View All]
09/21

Earned: Arcane Egg
Find or obtain an unhatched Arcane Egg.

06/11

Earned: Light Egg
Find or obtain an unhatched Light Egg.

06/07
Earned: Level 20 Scavenging
Reach a level of 20 in the Scavenging skill.

Methone's Friends (3)



View All