 Ried's Clan

Lo and behold, the clan of Ried
Venerable Lair
of the
Shrieking Wilds

"
Take a step closer, no don't back away. We aren't that scary nor that dangerous, compared to an erupting volcano we are simply a hidden pool of lava, maybe an avalanche in a freezing blizzard or an average sized tornado in the rain if you prefer...
"
~
Corvus Agent
"*
Huff
*
, ignore them, they are slightly off, their eggs must have had a crack way before they hatched or something. We welcome all to our home, now now please rest by the fire! I'll get you something to eat... or maybe I shouldn't leave you alone with, umm, them. Right, someone fetch some grub!
"
~
Knight Ronaldsson
"
I'm already on it!
"
~
Laufey
"
So, what brings you to our humble adobe?
"
~
Lord Froggi Wartes
"
Not much to see here to be honest, the Corvus 'association' takes care of anything, umm questionable so really, nothing of interest here. Quite boring actually
"
~
Knight Ronaldsson
"
Oooh, maybe Laufey's food? It's simply to die for!
"
~
Lord Froggi Wartes
"
Pff, or you can play with our Corvus Hunters, they could use some entertainment and we promise you'll never be the same again
"
~
Corvus Agent
"
Or don't! The Corvus... they are bad news
"
~
Knight Ronaldsson
"
Are you questioning our Lord and master!?
Our benevolent leader, our savior, The Nameless One! We are merely an extent of his will we...
"
~
Corvus Agent
"
Eeek! No I was talking about the weird circus group calling themselves Corvus hunters running around making fun of the Enderlands, truly terrible group that one, ungreatfull
"
~
Knight Ronaldsson
"
Yes, right... that group! We totally heard of them on our travels. Right, dear fellow traveler.. Never mind us, why did you come here again? I don't remember if you told us
"
~
Lord Froggi Wartes

I can always dream...

I want one or a 1000..

I want it
Need Katana
Accent:
Harvest Breeze
Hex
gene
Skink
gene









+9FR time (SWE)
Some of my dragons have a headcanon some lack one, some are based on already existing characters, series, movies, history, mythology etc
...
And now it seems the Toadkingdom might a be part of my dragonlore....
Lord Wartes, faithful companion of Sir Rolandsson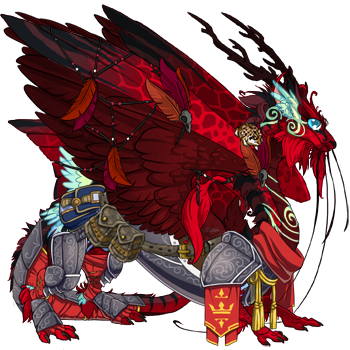 Might be useful in the future (note to self):
Recent Clan Activity
[View All]
04/07
Birthed new hatchlings!
2 Spiral Male, 2 Spiral Female

04/02
Birthed new hatchlings!
2 Guardian Female

04/01
Birthed new hatchlings!
2 Spiral Male, 1 Imperial Male

Ried's Friends (16)








View All