 Syncogon's Clan

an era exploding, a century spinning
Venerable Lair
of the
Focal Point

Hello there!
Notes:
Safarii bottle (unpaid)
hokei (raffle prize)
Underbelly (Neptune); Bar (or Poison?? haha) (Quoise); Poison/Toxin/Smoke (Nirvana), maybe Okapi (Automne), Saturn (Reulet)
Leather Aviator Coat?, Tanned Rogue Cape/Trousers/Vest (Hyndla)
Valkyrie Blade
Midnight Cape
Waverider Cape
Crimson Rogue Belt (Fei)
Pink Silk Scarf (Easter)
Siren Sylvan (Quoise)
female mirror denim facet?
male pearlcatcher cherub/peregrine/glimmer
female imp butterfly
ice crackle
raspberry or wine glimmer
radioactive trail
skink/spinner/runes matching, eg pearl/pearl/(light blue). also abyss skink
Nightshade Poison, Grape Butterfly, Robin Glimmer
petals butterfly glim male coatl (white-silver/overcast/overcast, orca/orca/blue-range, sunset/grape/watermelon?or blackrange, sunset/sunset/raspberry, honeydew/honeydew/blush, mint/mint/mist, goldenrod/goldenrod/robin, orca/royal/splash)
pretty butterfly colors: maize, cream, orca, grape, royal, ultramarine, overcast, robin, pistachio, mint, spearmint, radioactive, honeydew, spring, grapefruit, sanddollar, metals, sunset, peach, terracotta, fire, pumpkin, tangerine, tan, beige, tarnish, vermilion, crimson, strawberry, cerise, carmine, watermelon, fuchsia, rose, pearl
Pairs:
Litany/Reulet
Kiru/Easter
Meteor/Snowfall
Quoise/Sapphire
Rappaccini/Hyndla
Cirrus/Amaranth
Daria/Nyctal
Allegro/Emerald
Diminu/Cresic
Automne/Lief
Rigel/Ryukei
Rose/Deuter
Mistico/Lief
Things I Want but Let's Be Honest Here:
Water Sprite
Wind Sprite (haa)
Arcane Sprite (haaa)
Companion Comet
Golem Gauntlet
success!!
Starseer's Sash
Faerie Lights
thank you diamondnoodles!
From the Observatory
Spectral Spellcaster
Lightrunes
Typhlosion: navy basic, sunshine facet, maize underbelly
(mega) Mawile: banana/lemon basic, black eye spots, pink okapi
Maidang: male spiral, red/gold/ivory underbelly
Diya: female pearlcatcher, ice/skysplash/ivory-lemon underbelly
Gudong: male fae, royal cape, illuminated crown, white/banana/leaf underbelly
Milong: male skydancer, lemon tiger/mulberry/ivory underbelly
Nika: teal/blackberry/raspberry
Tumblr:
syncogon.tumblr.com
Fanfiction:
https://www.fanfiction.net/~syncogon
Stuff I really like (top tier):
Fullmetal Alchemist (manga/Brotherhood)
Pokemon
RWBY
Harry Potter
Cosmere
Assassination Classroom
Boku no Hero Academia
Hunter x Hunter
misc chinese cartoons shh
other:
Percy Jackson/all Riordan's books
Cardcaptor Sakura
Ouran High School Host Club
Death Note
Naruto
Danganronpa
The Hunger Games
Miraculous Ladybug
Your Lie In April
Attack on Titan
Death Parade
Avatar: The Last Airbender
Hibike Euphonium
http://www1.flightrising.com/forums/cc/1405762
http://media.tumblr.com/745901ac4bd65cb7c10736d777f342ee/tumblr_inline_nk71b0gf1I1qg2i5p.png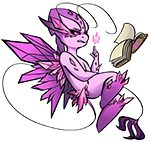 dressup:
http://dreamself.me/d/msuQ
and/or
http://dreamself.me/full.php?fg=0&ffg=0&bg=10512043&back=10362924&hat=0&accen=10592203&face=10479085&hair=10610711&accef=10573581&pose=0&top=10399461&coat=10413203&acceh=10367116&bottom=0&shoe=10375041&bodycolor=17000192&action=change&id=0&
Recent Clan Activity
[View All]
06/18
Birthed new hatchlings!
1 Spiral Male, 2 Spiral Female

06/18
Birthed new hatchlings!
1 Snapper Male, 1 Snapper Female

06/18
Birthed new hatchlings!
2 Coatl Female

Syncogon's Friends (19)







View All