0MidnightHeart's Clan

Imperials everywhere.. -I'm always depressed-
Mighty Lair
of the
Snowsquall Tundra

Welcome to the Sanctuary of Fallen Snows!


The Sanctuary is a place for dragons of all personalities and backgrounds. And the dragons here all choose to stay among the cold frigid air and snowy, mountainous areas. These dragons all live in a small village away from other dragon groups and don't often share where the Sanctuary is hidden away.


Even though they choose to avoid other groups the community of their village has a few dragons that like the profession of traveling and trading. And wherever the travelers go they buy, sell and trade to help expand their territory, many times along the way they will come across dragons in search of a new home that they offer to join them back to their home.


The clan has also made itself a place in adopting out hatchlings to new homes and making art as well.





Below there is a small story that you can read on how you can or did come across the Sanctuary but that's up to you if you choose to read it!



As you wander amidst a strong storm and billowing snow you see a path carved into the stone. The path isn't very visible and curves off out of site, the storm rages and shows no sign of ending...

You decide to follow the path as its walls prevent the winds and snows from battering you. As you take refuge in the carved path you decide to follow it as the storm rages on blocking the sunlight. There is still a small wind blowing in the carved walls and snow formed small drifts in places along the path through rugged landscape.

As you follow the path you are being followed, without your noticing another dragon follows you from the top of the stone walls, going unnoticed in the the fierce weather.

The path now ends and comes to rest at the base of a mountainous area. You follower is still there among the snowbanks and rugged stone landscapes ever watching what you choose to do. The clearing isn't very visible as the snow prevents you from seeing anything further than an a tail length away.

That's when the mysterious follower leaps from their hiding place to confront you.






"Who might you be? Might I ask?."
Spoke the mysterious figure.

"Nevertheless."
He continued as from the voice was obviously male.

Before you could speak he spoke again and with more of an authoritative voice that keeps you from answering.

"I can show you the rest of the way to our village. Now follow me. But stay close and be wary."

Now you find yourself following the stranger through the snow and ice as the storm doesn't leave any other options. As you tread on you come to another mountain pass with an old carved stairway built strait into the hard stone. The mysterious dragon begins to take the stairs without ever looking back to see if your still there. Your curiosity and the cold keep you going and following this stranger, it is a cold that can be felt all the way to the bones. The stairs are going downwards now and you can see a valley below the moving clouds but no sign of a village. Down further they followed the stairs until they reached a slope with a road clearly made into the hillside but there was lots of snowbanks showing that the road wasn't used often. Now the stranger starts walking faster through the snow and there, ahead you can make out the form of a village.

Whipping around the stranger suddenly speaks.
"When we arrive I will be taking you to our leader where he will decide your fate here. And don't try anything as there are skilled warriors here that won't hesitate to leave you helpless to the beastclans."

Staying quiet you just watch and continue to follow him as he leads you to a large cabin and obviously older than most as it was larger than all the other cabins and had intricately carved pillars to the entrance that showed great age and just as great of tales behind them.

"You are to stay silent and don't do anything rash." He hissed at you before turning back to the door ahead and shaking the snow from his wings and clothes. Then knocking on the door he waited as you stood there.

The door opens to reveal another imperial.
This time it's a big imperial with all sorts of horns and his eyes were fiery orange and shone brightly.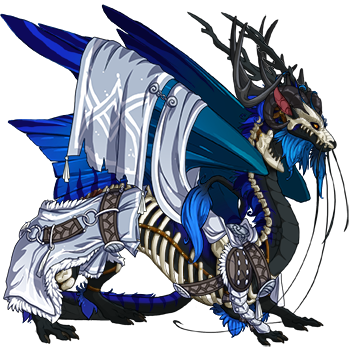 "Tyv, I believe you have some explaining to do with the person behind you."

"Yes I happened to find this one on the old mountain paths coming towards our village. But I must have the others and us make a decision on what to do about this." Tyv spoke.

Now knowing the name of the stranger to be Tyv you are caught wondering what they might do to you or why they are reacting to you as they are.

"You there. You will follow us inside and I'm sure Tyv has told you not to try anything." Came the darker dragon.

Looking at the darker dragon as he leads you inside you notice that the cabin was more of a gathering place with lots of food and tables with fire pits inside. You notice more dragons enjoying themselves around the room but they go silent as they notice your presence.

The dragon you followed turns around and speaks yet again. "My name is Lynrask. And the dragon who brought you here is Tyv and we are residents here as you would guess. Since you aren't supposed to be here we are going to debate on what to do about you. Now find a seat and don't touch anything."

As he says this you notice that the other dragons in the room are whispering and looking at you from time to time and some had even left out other doorways to the cabin. With this you notice a particular dragon across the room glaring at you and whispering with two other dragons, he looked just like Lynrask so you assume they must be related.






Now you see three other dragons enter the cabin with Tyv. The first is a dark dragon with runes of an unknown phrase or spell coming from his skin in a blue color.






The next seems to be less intimidating or scary than the first and is all white with a sparkling blue belly.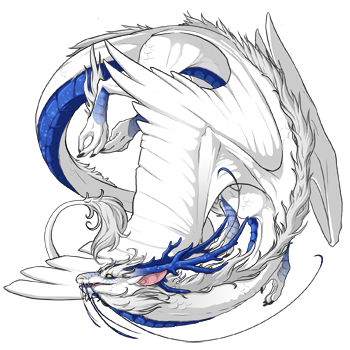 The third is another white imperial with a rippled body and hexed wings showing the bright glowing runes of a lapis hue.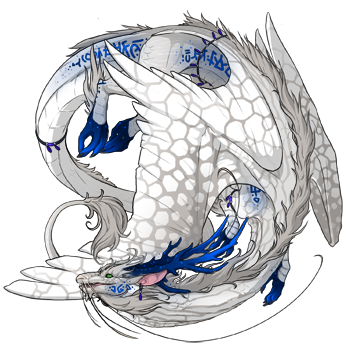 "You stay here." Said Lynrask in a very commanding tone.

Feeling tired you stay where you are and look at the structure of the cabin and what exactly the place looks like while he goes to speak with the dragon you saw earlier.


Then without a warning you get hit in the back of the head and it all goes black.


When you wake its to the sound of arguing and are confronted with the fact that you've been moved to a room. And that it's early in the morning from the light coming from the window on your left. Then the door opens to show one of the dragons you saw from the night before.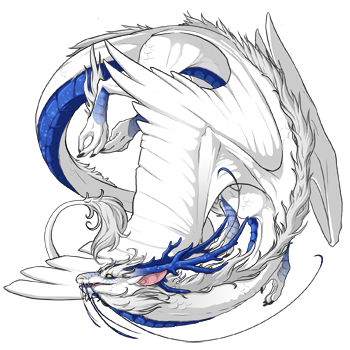 "Oh your awake! My name is Oceania." She said with a smile.

"You had a rough time yesterday but we worked everything out for now. But the good news is that we have decided it's okay to have you here there was just a misunderstanding that you were a threat."

"Oceania!" Came an unknown voice from somewhere inside the building.

"Well I must be going and I hope the room was alright. But I'll hopefully see you later and your free to explore."
Recent Clan Activity
[View All]
12/16
Birthed new hatchlings!
2 Guardian Female

12/15
Birthed new hatchlings!
1 Imperial Male, 2 Imperial Female

12/15
Birthed new hatchlings!
1 Imperial Male