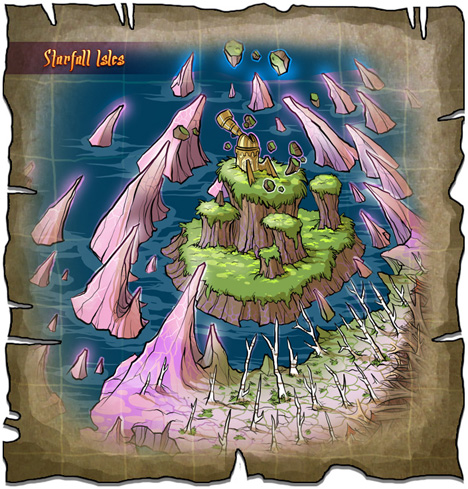 Crystalspine Reaches
This mighty mountain range once stood straight and tall, but as the realm transformed, so did the Reaches. The peaks now curve inward, pointing directly toward the Observatory and creating a concave and sheltered realm for younger flights to nurture their nascent powers and to grow accustomed to the warping energies of the land. The dragons here mine the peaks and use their fledgeling magic to send large plinths of crystal to their patron.

Starwood Strand
To stand inside of the Starwood at night is be embraced by an infinite universe. Along this former shoreline, the trees stretch skyward and grow taller than anywhere else. At night, they blossom and reveal millions of flowers winking in the moonlight like so many stars. It is a place for inspiration and thought. Many dragons discover their genius here, but many more become lost to the dangers hidden in its beauty.

Focal Point
Once a low island, Focal Point now threatens to tower over even the Crystalspine Mountains. The earth here longs to join the sky, pulling upwards in cascading towers of rock and crystal. The vast energies at play affect the outer lands and make the skies a dangerous litter of resources sent in to feed the Observatory. The true threats, however, to those living here are the strange, alien creatures riding the meteors that rain upon the land...
The Observatory
Sitting atop the highest reaches of Focal Point, the Observatory stands lonely, its Eye of Many Lenses staring deep into the darkest quadrants of space. The Arcanist broods by candlelight within as his four frail arms feverishly scribble the knowledge of the cosmos into ancient tomes of countless pages. Forbidden words rolling off of enchanted tongues echo through the the archaic structure bound in runes formed through years of applied magical sciences.