 Ivythorn's Clan

...Well that was a thing...
Mighty Lair
of the
Wispwillow Grove

Hi! If my dragons are ever on the front fell free to say so. If you ever feel like sending me something, then go ahead. I'm trying to work on lore for all my dragons. Also if there are any dragons I'm selling or giving away, Shadow gets first dibs but if something is on auction or in the bio listed for sale, feel free to ask/buy.
Everyone after Treb is for sale.
I am an
. All of my dragons have some sort of lore.
Me and @Lightningmom live in the same house so for mods if we have the same IP address be aware of that I guess.
I generally don't exalt unless it's for a Dom push. I try to name all dragons I exalt, but there have been times I've forgotten.
My official FR colour is Violet
---
There had been a pathway you had followed, as soon as you had entered the Tanglewoods. As it seemed, remnants of what had been a lair in the driftwood drag were scattered around, which had only made you more intrigued. You kept walking though. Finding yourself now near the outskirts of the Wispwillow grove, you hear a voice, from somewhere in he shadows.
"I see you've travelled the moon path."
Looking around for the speaker, you quickly spot a Fae hovering above you.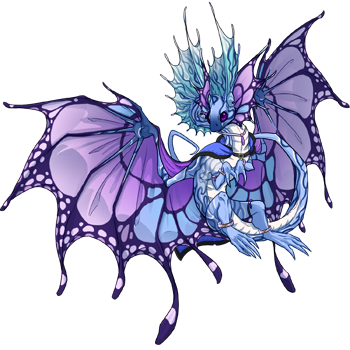 "Hi!"
She said, once she spots you. "This is the Twilight Circle, and we live on the moon path, a place where the moon shines brightly."
Looking up, there was indeed a bright light in the sky. Laughing slightly, she says,
"I take it you aren't from here?"
Shaking your head in confirmation, she gives you a slight smile. "Well, anyways, I'm Twinkle, as long as you mean no harm, feel free to look around!"
---
Wishlist

Gossamer flame cloak
Swift Volt
Alloy Scroll
Accent: A night in the clouds
Accent: Snowflake
---
(Lore book)
The Twilight Circle is a clan that lives near a geographical location known as the moon path. It is a path that dragons of all sizes can travel through. The path starts in the driftwood drag, but makes its way around the entirety of the tangled woods.
Within the Wispwillow grove and to the west of the path lies the Twilight Circle. Among a forest of trees, the large gap between two large trees surrounded by glowing mushrooms(referred to as glowshrooms by the local residents of clans all around the path) make up the entrance. Between the gap of the two trees however, is a curtain made of semi transparent silks in various shades of purple, blue and black. The entrance isn't really guarded unless the clan's scouts detect either frequent of high amounts of unsual activity from outside dragons or otherwise. There are generally two dragons that guard the entrance. One if generally on the outside of the curtain to be able to see and investigate any activity on the outside of the lair, and one on the inside, generally standing near or behind one of the trees. This one is to make sure anyone who isn't supposed to leave doesn't, and to be able to act as a surprise layer of defence to any outside attackers.
Entering through the curtain is a large clearing. This is where members of the clan gather to socialize. This is also where important clan meetings take place. All familiars that aren't currently accompanying a dragon roam around freely here as well.
Scattered on the edges of the clearing are where dragons decide to make their living space. Mates and families will generally share or merge dens to make one big one, but that is not always the case. On the right side, there is a raised area, where the Circle's leaders and family reside. To the left of the den lies a tunnel going underground.
The tunnel walls are dirt behind glass, as a sort of protection to it. The tunnel leads into an underground cave system. This is where the hoard is located, from left to right, the sections are: Food, Materials, Apparel, Battle Items and Other things that are found. All the clan's collective currency can be found there. Dragons may separately store what they earn if they wish.
Back up on the surface, the clan nests are located on the left side. The two main healers of the clan and their family live near there. The left side is where dragons that specilize in specific crafts such as tinkering or jewellery making reside, where as the right side tends to be where dragons of more general talents live, though this is not a set in stone rule.
The right side is also where Stormwater has a stand, closer to the entrance, to take care of clan relationships and trades.
Opposite of the entrance past where members of the Twilight Circle live is some more open space, surrounded by trees. This is mainly used to practice combat skills, though if dragons need to convene in a more private area than they main space they may occasionally do so here. Other dragons may camp out around the trees just to have a quiet space to think when no one is using it for anything loud.
A more dense forest of trees and other plants is the boarder of the clan.
---
Average lair level
as of 04/15/2017
3.54237288136
as of 07/28/2017
3.78333333333
as of 11/24/2017
3.98360655738
as of 3/31/2018
4.22580645161
as of 7/2/2018
4.56451612903
as of 9/15/2019
7.0645161
Most prominent colour in clan is midnight with 8 dragons (one of which is a double) having midnight
Hunger games sim
http://brantsteele.net/hungergames/r.php?c=Bb6KCoD1
Sites you can find me on
Feralfront: Ivy!
Crittercosmos: Ivy
Scratch: awe340
Genesis - Crittercosmos: Ivy!
Wizard101 (send me a message if you want to friend me there)
Pirate101 (very rare, same rules apply as wizard101)
Anime distraction: Ivy!
Fanfiction: The Aurahunter
Wattpad: Ivystorm1
Roosterteeth: Ivystorm
NaNoWriMo: Ivystorm
Warriorcatsarpg: Ivy
Roll20: The Aurahunter
YouTube:
YouTube.com/user/Mindbox25f
Amino: Aurahunter
Utaforum: Ivy!
Soundcloud:
soundcloud.com/aurahunter
Feralfront clickable link:
NaNoWriMo ywp winner's badge 2016
NaNoWriMo winner's badge 2017 (earned 11/23/2017)
Camp Nano 2018 badge (earned 2018/04/22)
July Nano 2018 earned 07/15/2018
(Given to by a water member 08/23/2017)
Resources I find useful
Akirigeddon dragon bases:
http://www1.flightrising.com/forums/frd/2157113/1
Awesome sprites that don't belong to me but are free
http://www1.flightrising.com/forums/cc/1875081
Fake achievement generator
http://www1.flightrising.com/forums/cc/2272462
https://oriwritesaplugin.github.io/FR-Miscellany/achievementgen.html
Breeding card maker
http://keelanrosa.com/fr/
Fest familiars free adopts
http://www1.flightrising.com/forums/adopt/1908783
How to make the couriers talk
http://www1.flightrising.com/forums/frd/2348987
Dominance Tags
http://www1.flightrising.com/forums/frd/2381434#post_31817462
Free flight graphics
http://www1.flightrising.com/forums/adopt/2119686
April fools FR ads
http://www1.flightrising.com/forums/frd/2408692
Footer ads gif
https://sig.grumpybumpers.com/host/FooterAds.gif
Dragon Bio prompt generator
http://www1.flightrising.com/forums/frd/2185715
Alignment badges
http://www1.flightrising.com/forums/cc/1491643
Fan made ads
www1.flightrising.com/forums/frd/2464861
Timename
http://www1.flightrising.com/forums/frd/2498994
The cipher for it
https://www.dcode.fr/vigenere-cipher
Hatchling Apparel
http://www1.flightrising.com/forums/frd/2665838
Animated coli enemies
http://www1.flightrising.com/forums/cc/2426970
Flight rising zodiac
http://www1.flightrising.com/forums/frd/2623532
Total fake achievement points: 11202.149265358979323
Recent Clan Activity
[View All]
11/21
Became friends with alfdraws
Maybe in a few years they'll write a buddy comedy about you guys.

09/17
Became friends with bambolove.
Maybe in a few years they'll write a buddy comedy about you guys.

08/24

Became friends with CatsThatParty
Maybe in a few years they'll write a buddy comedy about you guys.

Ivythorn's Friends (57)






View All