VioletWhirlwind's Clan
Ancient Lair
of the
Behemoth

Clan Lore: (Note most of this is WIP, and subject to change.) Clan name is The Hidden Glen Retreat and Refuge (Hidden Glen Retreat, Hidden Glen, or HGRR for short).
Our goal is to provide shelter, safety, and sanctuary to dragons with troubled pasts. Be they abused, abandoned, refugees from war-torn clans, pariahs, or just weary wanderers or visitors. All are welcome, as long as they follow one simple rule: Do not harrass our residents or push them for information on their pasts. They are free to talk about it if they wish, but they are not required to. They may take a while to warm up to you, but given time and gentle treatment, you may one day learn their stories.
Goals:
01. Get more Treasure and Gems. :P
02. Get at least one of every breed, gene type, and element of dragon.
03. Give Arrix Shimmer and Gembond.
04. Maybe give Interval Gembond. Maybe species scroll.
05. Give all Faes with basic secondary Shimmer.
06. Give Charity a primary gene.
07. Give Nosila Spiral species scroll? and Shimmer.
08. Give Ironfrill Shimmer, Irridescent, and Circuit (maybe)
09. Bombard lair with Gembond, Crystal, Facet, Iridecent, Shimmer, and Glimmer genes. XD;
10. Acquire 2013 Light Holiday items. (Psshh...yeah RIGHT! In my dreams...)
11. Get retired familiars. (another impossible goal.)
12. Acquire dragons with the following genes (or gene scroll them) : Current, Hypnotic, Vipera, Piebald, Paint, Cherub, Falcon, Poison, Toxin, Butterfly, Petals, Skink, Spinner, Bee, Wasp, Jaguar, Rosette, Jupiter, Saturn, Giraffe, Hex, Metallic, Alloy, Tapir, Striation, Capsule, Contour, Lace, Opal, Scales, Smirch, Stained, Pinstripe, Trail, Ghost
13. Tincture one of my coli teams and fix stats.
14. Write more dragon bios.
15. Get Obs Iri/Lemon or Spring Hypnotic/Aqua Glimmer Lightning dragon (not Guardian, Pearlcatcher, Snapper (male), Wildclaw (male), or Nocturne (male), though)
16. Get Falcor fan-dragon (Ice Irri/White Shim/Maze Glim male wind or earth Imp)
17: Get a male Wildeclaw
18: Get a female Bogsneak
Achieved:
1. genes: Tiger, Stripes, Speckle, Freckle, Eyespot, Seraph, Irridescent, Clown, Shimmer, Gembond, Underbelly, Ripple, Circuit, Crackle, Bar, Daub, Smoke, Crystal, Facet, Glimmer, Okapi, Spines, Peregrine, Savannah, Safari, Runes, Thylacine
2. elements: All done! :D
3. breeds: Tundra, Mirror, Fae, Guardian, Wildclaw, Snapper, Ridgeback, Skydancer, Pearlcatcher, Imperial, Spiral, Coatl, Nocturne,
Crystaline Gala 2016 Pokemon caught:

Crystaline Gala 2017 Pokemon caught:

Badges: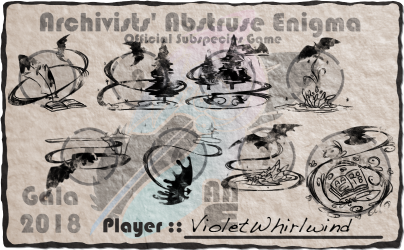 Recent Clan Activity
[View All]
02/15

Became friends with Mistyfall.
Maybe in a few years they'll write a buddy comedy about you guys.

02/15
Birthed new hatchlings!
2 Tundra Female

02/14
Birthed new hatchlings!
2 Guardian Female, 1 Mirror Female

VioletWhirlwind
User ID:
25120
Date Joined:
2013-07-11
Birthday:
February 15
Forum Posts:
1754
656

121



VioletWhirlwind's Friends (24)








View All