RadioactiveSquid's Clan

nobody likes me everybody hates me guess I'll go catch wyrms
Venerable Lair
of the
Focal Point


>>Welcome to the Arclight Institute<<
"Nothing in life is to be feared. It is only to be understood."
***
Some lore-based musings from a newbie finding their place here:
There is no doubt that I belong in the Arcane flight. I relate more to the Arcanist's insatiable curiosity and endless compulsion to observe the universe than anything else. My heart is in space (I might be an alien haha). And he has the absolute best origin story of all the deities...born in an enormous fusion reactor explosion? That's metal as heck! Not to mention, I collect rocks and minerals and things that glow so I certainly feel at home here among the radiant crystalline spires of the Starfall Isles.
And yet...I also feel quite drawn to the Lightning flight. I can't stop thinking about how inspirational it would be to live among all those clever and industrious dragon engineers. My dragons also feel a creative spark and aspire to be inventors as well as observers. Upon reading the lore, although I haven't seen anyone talk about this, it actually seems to me that the Arcanist owes his very existence to the Lightning element and the engineers who lived in the previous age and constructed the ill-fated reactor from whose wreckage and fallout he arose.
So while I feel the greatest allegiance to the Arcanist and his flight, I wish to acknowledge the importance of the Lightning engineers in our origin and in our future. I therefore dub my lair the Arclight Institute. The dragons who make their home here love to learn just for the sake of learning, but that doesn't mean they don't try to apply what they know in practical (and sometimes not-so-practical) ways! After all, there is even more to be learned through experimentation. Using their arcane magic* and knowledge of the inner workings of the stars, they've managed to successfully confine plasma in tiny stellarators to illuminate the lair and power their experiments. They focus their investigations into three main areas (although some dragons might have their own differing interests, and all are free to pursue whatever intrigues them): data storage and quantum computing, for the recording and analysis of the incredible amount of information they collect and development of advanced materials and techniques needed for their other projects; the improvement and applications of fusion technology; and the development of spaceflight. They even dream of someday constructing Dyson spheres to harness the power of the actual stars they so love to gaze upon at night.
These ambitions may make them less than popular with some of the other clans who don't appreciate their propensity to "meddle with nature" or might fear a repeat of previous disasters, but that isn't going to stop the Arclights. They just do their own thing, driven only by curiosity and a desire for technological progress. They'll try anything just to find out what happens. They're the archetypal mad scientists...with a side of powerful alien space magic*. So everyone watch out, I guess. X'D (Note to visitors: Don't touch anything and always wear any PPE provided at all times. We won't be held responsible if you don't follow our safety protocols, go poking around, and end up with radioactive eyeballs.)
*Important note: "Any sufficiently advanced technology is indistinguishable from magic." That's the kind of "magic" we deal with. We are very serious dragon scientists here ok, not some kind of fairy-tale wizards. :P
>>INFO<<
Dragon aesthetics: Radioactive, Space (Starmap, Constellation) + Blues and Purples, Circuits, Metals, Alloys (We're building spacecraft with RTG power sources)
I'm
Atomic on Subeta
and
AtomicSquid
on Dragon Cave.
>>NOTES<<
I need this:
Imperial Male
Primary: Silver Metallic
Secondary: Navy Shimmer
Tertiary: Cyan Circuit
>>TEST SITE - KEEP CLEAR<<
text TEXT
testing
>>BADGES AND STUFF<<
2019 House Cup: Starseeker
2019 Starseeker House Pride Quest 1
2019 Exalt One Dragon Raffle
2019 Starseeker Biwizard Tournament (100 level badge - My points=147)
2019 IFR Harvest Celebration
550 Points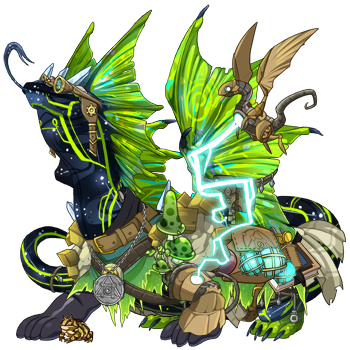 Hi it's me as a dragon
Recent Clan Activity
[View All]
12/05

Became friends with Mothman12.
Maybe in a few years they'll write a buddy comedy about you guys.

11/20
Became friends with ahzidal
Maybe in a few years they'll write a buddy comedy about you guys.

11/16
Birthed new hatchlings!
2 Wildclaw Male

RadioactiveSquid's Friends (20)






View All