 Hurricanesong's Clan

on with the show
Mighty Lair
of the
Molten Scar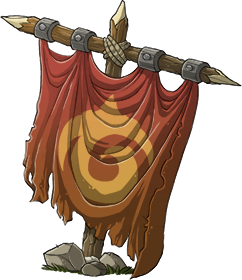 by miirshroom - - a little piece of home in Water
- - -
Online | Offline |
Busy
| In a Galaxy Far, Far Away
4/23/2020: currently very busy with college/existence and rather inactive, my apologies!
NOTE TO SELF: inform Kaidan and Visionrift when I next breed Asanii and Unnamed
- - -
There is a dark opening, a cave entrance, jagged and leading straight into the dark rock. If one were to pay close attention to it, they would notice that only the very entrance is jagged. It is misleading. Inside, the walls have been smoothed and polished to a shine, black and shimmering like obsidian. There is a tunnel here, leading forward into the tall, long-standing rock spire, such a structure rare in the Molten Scar thanks to the constant shifting of tectonic plates and churning of magma.

And moving on, further down the tunnel, the walls have been hung, if sparingly, with ornaments, some of which are odd for a clan in the Fire flight - strings of feathers and translucent beads and shells. Others are spirals and angles made of some dark metal, pieces of glass and other materials fused into the shapes. The whole tunnel is dimly lit by glowing orbs hung from the ceiling, which makes everything a bit eerie. Here and there are small alcoves carved into the walls, just as smooth and shining as everything else, and these are filled with jars. Within most of the jars are embers, though in a few of them, swirling clouds of something can be seen - smoke? steam? what is it? - and the clouds never dissipate or still.

There is a light ahead, how strange. But no, it isn't strange, for here the tunnel ends, and the space opens up to a cavernous chamber. If one looked upwards, they would see the space extended all the way to the tip of the rock spire, and from there opened out into the sky. All along the walls of this chamber there are caves for the purposes of the dragons who live here. From the ground, no one can tell exactly what purpose each serves, but there are so many that it could be confusing anyway. At least some must have windows or even lead out into the open air, because natural light streams into the chamber from the entrances. And glowing globes adorn any areas with limited light.

The floor isn't truly a floor, inside this chamber, just as the ceiling is not truly a ceiling. The 'floor' consists of a multitude of crisscrossing pathways, leading directly over a pool of lava that lends the immediate area an orange-red light. There are guardrails, ornate, smooth like the walls of the tunnel that came before this space, but regardless, everyone in the clan here must have an excellent sense of balance to stay on these paths. Or… perhaps they are simply used to flying. This lair certainly seems to be a good place for dragons who like to fly.

The lair was built specifically for a certain clan - built by that specific clan when they came to the Fire flight, for it is not their place of origin, but they have made it their home regardless. This lair is home a clan that hails from the Water flight as their point of origin. This lair is home to the Rainsky Alliance.
---
So now for a bit about me... I'm in my teens, love dragons, and am a writer and artist. I'm also a nerd, a Star Wars fan, Ninjago Fan, fan of lots of anime and manga, and most recently Gravity Falls fan. (THANK MY FRIEND.) Oh, and Voltron, I like Voltron. I also ship lots of things.

My lore is nearly always a work in progress, but as of now my clan is divided mostly into magic users, dragons with a trade/skill/other job, warriors, and the clan leaders, as well as a few other higher-ups. There's no strict class system as of now, the only real hierarchical rule at this point is that the leaders are in charge. Eventually I hope to give things a bit more of a solid structure.

Also, to you wonderful mods and admins, BloodyAngel12 and I frequently share a computer and refer each other to many things - we are two different people though! ;) in addition to this, I frequently sign in on various devices, and they do change sometimes! I ALSO use school wifi frequently, and some other people in my school may play FR! Thank you for listening c:
The Clouded Sky: a Hatchery
The Rainsky Tales
http://www1.flightrising.com/msgs/58063253
http://www1.flightrising.com/msgs/90106847
In My Heart: The Exalted
roleplayer bio here!
Gen1 Gene Ideas (message)
More Gen1 Gene Ideas (message)
Personality Help
---
To-Do List
--Bar and new secondary for Kai?
--work on bios (especially ninja)
--to be decided
---
Wishlist (is updated and changed regularly)
Hoarding:









Eggs







Apparel

















also always looking for rogue apparel, other silks, other sylvan apparel, mage apparel, other swords and weaponry, and a ton of other stuff c;
Genes/Scrolls









Skins/Accents
[item=skin: beast from below] [item=accent: bursting core] [item=accent: summer king]
Familiars




Miscellaneous


I'm also always looking for crates, other chests/openables, and holiday currency!
---
Links to Cool Places (art, adoptables, etc.)
Academ's Art Plaza - - gorgeous, super-realistic art! Commission more sometime.
Recent Clan Activity
[View All]
04/23

Became friends with DoctorNevermore.
Maybe in a few years they'll write a buddy comedy about you guys.

08/11

Became friends with Luthia
Maybe in a few years they'll write a buddy comedy about you guys.

12/15
Became friends with kenjirou.
Maybe in a few years they'll write a buddy comedy about you guys.

Hurricanesong's Friends (40)







View All