CosmicFalcon's Clan

Don't go gently into the night.
Ancient Lair
of the
The Observatory
1,119/4,250g Hibernal Den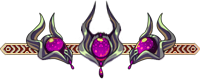 Professional Edgelord
Please do enjoy the mess.~
"I am not a terrible person. I just like to bring attention to what others consider terrible things. As the world isn't made up of sunshine and rainbows, there is ugly in everything.

Understand this and perhaps the world can be made a better place. As the longer you ignore something, the uglier it becomes."

"Anyone can fit here, amongst a clan of fallen stars."
*Enter Song Here*
Our Story
Deep in the Star Wood Strand, there is a cave in the side of a small cliff where a natural cavern system runs deep into the ground. This is where the Clan Of Fallen Stars begin.

This is a clan where fallen stars gather. Where dragons who don't really belong anywhere or are unwanted come to live. There are all kinds of dragons from across every region that have gathered here. They each have their or stories and motives, no two dragons are ever the same.

As long as dragons follow basic rules, they can stay and for the most part do as they please. Fights are settled between those fighting as long as no immediate threat is presented to anyone else and everyone must provide for themselves or the clan.

Ever dragon may be quite different from one another, however they all come together when need be. When hell comes knocking, you better believe all these dragons will come to answer and with dragons from all across Sorineth. The power hidden away, deep in this lair, is one what isn't one to be blink at.

- My lore isn't dictated by the cannon lore to Flight rising. I write as I wish and how I view my own dragons.
- We have running water, heat, AC and modern technologies.
- Atheist.
- Dragons have human counterparts even if not shown.
- If the lair ever seems to be 'hungry', never fear. They're all cooking, hunting and going on with their lives as normal.
-Deal with it.
- No random friend requests.
- Need an arcane nest? Just ask.
- Need a cauldron? Just ask.
MEMORIAL
INSERT TEXT OR IMAGE TO BE CLICKED HERE
WISHLIST

- Any gifts are greatly appreciated!
- Anything and everything.



GOALS
-
- Have enough extra space to sell hatchlings.
- Keep 1 hatchling from all my pairs because I love my dragon children. No matter how they look, who they are or where they go.
- Gene all my dragons that I want to change a gene on.
- Complete bios for all permanent dragons.
Dream Dragons
dream Dart
clan info formatted by dystopisaurus
Quote:
]
Links to Remember
Shiny things
Flowery things
Collection of various bio temps, some are broken
Kaldwin's bios
Clan info banners and dividers
Pride Flags
Starkinder's
Delamire's
Simple Bios
Most Used Temp
Meias's
Crystal's n' temps n' ****
New Mibella's
Old Mibella
Single Temp
Pride Badges
Small, Pretty Bios
Recolors #1
So Many Recolors
Lots O' Recolors
fake/recolored items
Free Colorable Adopts
Mixed Element Symbols
Dragons with bio resources
NOTN Bio Temps
Bio Images
Variety of free bios
IRex's Free Bios
Lore Ideas
Xem's Templates
Bio
Bio Resources
Bio
Bios
Cute Badges
Bios
Flower Dividers
Heckin' Gay Snakes
Deme's Fake FR Items!
Coloradoblue bios
More Bios
Bio and resources
Simple but Nice
They're alright
Wax seals and Banners
What nice...event banners...
1nfestation's Bio Templates
Flight & Species Themed Bio Templates
Monochrome Rose
putri's bio resources
Sorky's bio stuff
Coding Color Guide!
Spooky bird skull
Food - Goo
Materials - Ooze
Apparel - Slime
Familiar - Muck
Other - Sludge
INSERT TEXT OR IMAGE TO BE CLICKED HERE
Important note:
To Devs
- I use several devices.
To Everyone:
If I ever go inactive on the site, do not feel bad. I'll always be deeply attached to the friends I have here and my dragons. Just so others know I was here and that I cared.
- Sincerely, Falcor.
"Guys, Arcane has pink eyes. At least half of these dragons are high."
"DO YOU KNOW DA WAE!?


Recent Clan Activity
[View All]
04/01

Became friends with Ekanos.
Maybe in a few years they'll write a buddy comedy about you guys.

04/01

Became friends with KiwiCrow.
Maybe in a few years they'll write a buddy comedy about you guys.

03/31
Birthed new hatchlings!
2 Tundra Male, 1 Tundra Female

CosmicFalcon
User ID:
236516
Date Joined:
2016-03-11
Birthday:
December 06
Forum Posts:
3862
654

212


CosmicFalcon's Friends (71)







View All