Malis' Clan

Wildclaws forever!
Ancient Lair
floating upon the
Cloudsong
Note:
I always love hearing about my dragons making the front page! Many thanks even if I don't respond to your post.
Questing thread:
[x]
Welcome to the home of
WillowGlen, Tribe of the Vitterfolk, and The Flock
____
There are three clans who reside between the caverns of the Stormspire Quadrant and the passageways of the Reedcleft Ascent. The first is WillowGlen who own and live in the cavernous complex of Stormspire. Lead by Nolatari, they pay homage to the Stormcatcher and are masters of invention.
____
The second are nomads, a clan of wildclaw 'trolls' who call themselves Vitterfolk. They travel across the world of Sornieth and don't hold ties to any of the Dragon Gods. The Vitterfolk winter with the WillowGlen clan before traveling through the lands, exploring and trading as they go.
____
The third is The Flock, a band of Skydancers who commit ties with a flock of harpies, each one forming communal pairs that aid the group as a whole. They call the cavernous networks of Reedclif home and enjoy summer trading markets when the Vitterfolk Trolls travel through, trading stories and wares of the neighboring areas.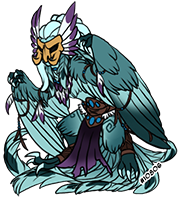 I'rryx
, Friend of the Trolls
____
I'rryx is a harpy of the Flock who has befriended Malis after the wildclaw matriarch saved her from a particular ferocious band of mirrors within the plague lands. They often travel together, looking for others who fit the middle ground and choose to hold no allegiance to other Flights.
____
Having I'rryx is a great benefit to the trolls, especially when traveling through Beastclan territories and Malis holds her friendship with the harpy in high regards. It was I'rryx who introduced the Vitterfolk to The Flock and their alliance has proved to be beneficial to both groups in both the past and the present.
OOC stuff:
Allo! I be t' Troll! I love making up characters, sketching, World of Warcraft, and running around in fun costumes.
Gaian Alias - Malis Vitterfolk/Amirynth
WoW servers - WrA (Mostly horde, some alliance) and Sentinels (Horde only)
Also known as: Rynn, Troll, That crazy Brit...
Accent shop:
[x]
Plushi shop:
[x]
Notes:
Shadow Sprite = 4285 gems
Fugitive Shackles = 7000 gems
Cloudy wings = 120kg
Mica has my Skycat
Recent Clan Activity
[View All]
10/28
Birthed new hatchlings!
4 Imperial Male

10/25
Birthed new hatchlings!
1 Imperial Male, 1 Imperial Female

10/21
Birthed new hatchlings!
3 Snapper Male

Malis' Friends (183)






View All