 AmethystSeaWing's Clan

If I'm going to burn, it may as well be bright!
Lesser Lair
of the
Driftwood Drag

| | | |
| --- | --- | --- |
| | Welcome! This will look better, one day... Anywho, I make art, lore, and outfits, if you want some send me a pm! I do accept random friend requests, if you could send some my way I would really appreciate it! Oh yeah and my time is FR's+3. | |
I want this dragon baddddd...
THIS IS NOT AN EXALTING LAIR!
If I buy your derg, it will most likely be a fodder save and will become a traveler after being loreified :)
Prim gene - lionfish
Sec gene - noxtide
Change Breed - Imperial (never gonna happen but whatever)
Skin - 87 (wildclaw f)
Prim gene - leopard
Tert gene - Filigree
Accent - Mana relic (imp m)
Accent - rainbow scales (imp f)
Prim gene - giraffe
Skin - frigid flight (noc f)
Skin - digital revolution (imp f)
Goals:
-Maybe make an outfit/lore shop
-Maybe maybe
maybe
make an art shop?
-Finish all my dragons' lore
-Get all my dergs at least three pieces of apparel
-Finish stuff up for ProbablyNotYou
-Finish stuff up for Seles
-Finish stuff up for andromidia
-Finish up stuff for Aphea
-Finish up stuff for Luunai
-To own a hatchery eventually!
-To finish all my projects
Ways to Keep Your Sanity
1. Sit in a parked car with sunglasses on and point a hairdryer at passing cars and see if they slow down
2. Page yourself over the intercom, don't disguise your voice
3. Every time someone asks you to do something ask them if they want fries with that
4. Put a paper bin on your desk and label it "in"
5. Order a diet water whenever you go out to eat-- with a serious face
6. Specify that your drive-through order is "to go"
7. Skip rather than walk
8. Don't use any punctuation
9. Sing along at the opera
10. Five days in advanced tell your friends you cant go to their party because you aren't in the mood
11. Have your friends address you by your wrestling name, rock bottom
12. When money comes out of the cash machine scream, "I won, I won!"
13. When leaving the zoo, start running toward the car park screaming, "Run for your lives, they're loose!"
14. Find a good parking spot at the mall during rush hour and park in it with your reverse lights on
15. Anytime someone asks you 'why' reply with 'because I'm batman'
16. Wait until there are a bunch of people, look in the fridge casually, and jump back, slamming the fridge door saying, "IT'S MOVING IT'S MOVING!!"
17. Talk to yourself sort of quietly, but people can hear you (in public) and then scream, "BECAUSE I SAID SO!"
18. Put this on your page and make someone else smile :)
I LOVE HATCHLING LETTORSSSSSS! Send some my way! :D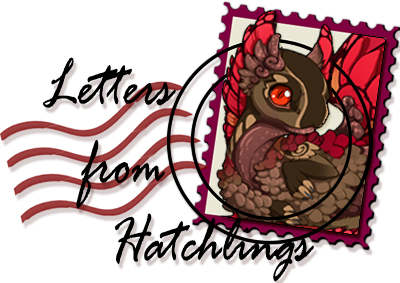 Subspecies I wanna get someday!


Once everyone was asleep ((I'm gonna assume after awhile all the characters are asleep)) except Ana of course, she sat up in bed. Despite her plans, she'd still been trying to fall asleep to no avail. Still a new place, with new sounds, and new feelings.
She breathed deeply. This was her practicing time. Away from the others. She'd been trying so hard to keep everything inside... Now was her time.
She let go.
And felt a small tremble in her cell.
Suddenly small vines burst through the cracks in the bricks, working their way toward her. She tried to make it stop, but it wouldn't. She started to panic, the vines were spreading, growing more rapidly. She had to stop them. She had to stop. Then she had a thought.
She started humming, softly, just enough that she could hear. And the growing stopped. The vines started shrinking back into the holes they'd made, and she could feel them working their way up to the surface outside instead of into any of the rooms. It wasn't like the vines were reacting to her humming, more like her inside energy was bending to the music she was creating.
She lay back in bed, and as she did she felt the forest grow a little bit more. The plants seemed more alive. Some of the withering stopped and went in reverse.
She couldn't see it. But she knew.
And as she fell asleep, she could feel the forest. The whispers of the trees, the rustle of the ferns, the life and joy and beauty of it all.
She knew she would see it eventually and be able to experience her power better. They just had to escape.
Recent Clan Activity
[View All]
09/25

Became friends with Janette
Maybe in a few years they'll write a buddy comedy about you guys.

09/25

Became friends with iambic
Maybe in a few years they'll write a buddy comedy about you guys.

09/25

Became friends with smorphie.
Maybe in a few years they'll write a buddy comedy about you guys.

AmethystSeaWing
User ID:
515695
Date Joined:
2020-02-16
Birthday:
February 09
Forum Posts:
2419
37

54



AmethystSeaWing's Friends (58)







View All