 Antaria's Clan

All honor to clan Do'Urden
Ancient Lair
of the
Fortress of Ends

Admin! Artenias and I share the same IP address, he's my boyfriend =3 Also, my brother is Lurasu and we also share an IP address
If you donate insects to my lair, I will give you something! might even be a hatchie!
Goals:
Light Sprite
Plague Sprite
Lightening Sprite
Water Sprite
Fire Sprite
Shadow Sprite
Wind Sprite
Earth Sprite
Arcane Sprite
Nature Sprite
Ice Sprite
Wishlist:
noc egg
Any other eggs!
Skin: Flee the Forest
Skin: Faerie Lights
Skin: Dark Fortune
All credit for this parody goes to TheSilverFox
Lady Gaga's "Applause" turned into "Exalts"
-By TheSilverFox
I stand here waiting for you to bang the gong
To crash the critics saying, "is it right or is it wrong?"
If only fame had an IV, baby could I bear
Being away from you, I found the vein, put it in here
I live for the exalts, exalts, exalts
I live for the exalts-xalts, live for the exalts-xalts
Live for the way that you train and scream for me
The exalts, exalts, exalts
Give me that thing that I love (Turn the lights on)
Put your hands up, make 'em touch, touch (Make it real loud)
Give me that thing that I love (Turn the lights on)
Put your hands up, make 'em touch, touch (Make it real loud)
Make it real loud
Put your hands up, make 'em touch, touch
(E-X-A-L-T-S) Make it real loud
Put your hands up, make 'em touch, touch
I've overheard your theory
"Nostalgia's for geeks"
I guess sir, if you say so
Some of us just like to train
One second I'm a deity
Then suddenly the deity is me
Exalting was an art
Now, art's an exalt in me
E-X-A-L-T
A sinister wind blows:
Through the Snowsquall Tundra, an eerie wind blows bringing a chill down every spine. A cackle echoes across the Fridged Floes. Emerging from the noxious fumes billowing through the Southern Ice Fields, an armoured fae scans the horizon.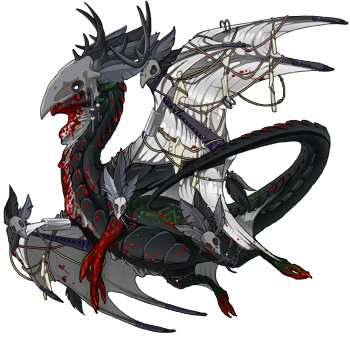 Nodding to himself, he turns towards the shadows behind them, giving them the all clear.
"Come my children, we have reached our destination. Though the journey was long, and we have lost many, our pilgrimage is over. We can now rebuild our lives."
Turning to his right, he gestures to one of the shadows
"Lacali, this was once your home, you are now our guide in this frozen wasteland."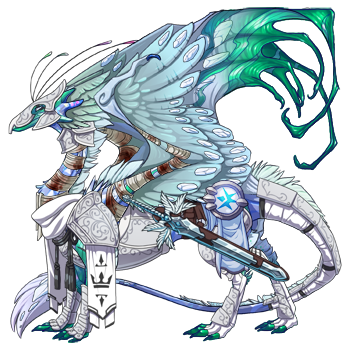 A bandaged skydancer comes forth, his cold stare turns towards the Clan Father. He breathes deep of the freezing air.
"At last, its good to be home. However, I must alert the Icewarden of our presence."
And with that, he takes off in search of his diety.
Breathing a sigh, the fae mutters something almost intelligible
"Crazy....*grumble*....insubordinate....*mumble*....foofyboots...
His eye twitching, the fae turns to the rest of the shadows and addresses them
"Come, let us announce ourselves to our new neighbors."
And with that, the fae puffs his chest, takes a huge breath, and bellows out
"MY NAME IS DRIZZT! AND I AM CLAN FATHER! WE PLEDGE OUR ALLEGIANCE TO THE HONORABLE ICEWARDEN! ALL GLORY TO CLAN DO'URDEN!!!!!"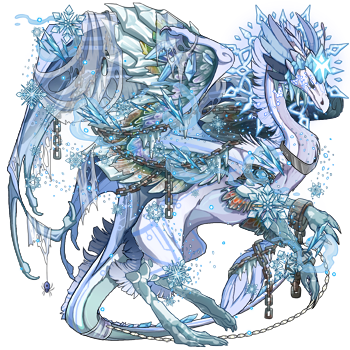 ((It took a shift in the light to alert Akumi to something being different. Something being...here. Someone who did not belong. A faint dimming of the already meagre light allowed by the dense cloud cover. A flicker.
She turned to Zaanko, who had taken to muttering to himself, still pulling apart the same carcass.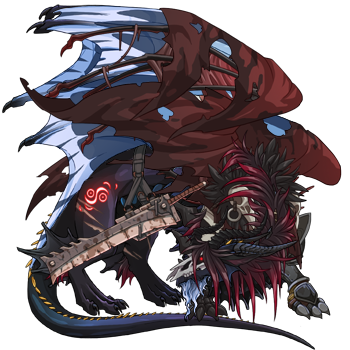 Very suddenly he howled, "I saw you look at me! You think I didn't? I DID!" He paused in his wide-eyed ravaging of the barely recognizable remains to look at his handy-work for a moment. A savage grin lit his face and with a roar he returned to his determined desecration of what looked to be a rib cage with renewed enthusiasm. "You will pay! I will make you pay for it. All of it!" Without looking up, he burst into laughter, voice cracking and keening.
Akumi's scowl deepened.
Useless.
Giving the surrounding area a quick glance around, she took off silently, weaving through the sparse trees and keeping low to the ground. Someone had to keep an eye on things, even if he was the clan leader.
She saw Shadows deepen just ahead and stopped just next to a snow bank, her plumage blending in quite nicely. A shifting darkness enveloped that side of the open clearing, giving way occasionally to indistinct shapes. Whoever they were, there were a lot of them. Far too many for her to take on alone should the need arise. And Zaanko was having another one of his fits.
While she pondered her next course of action, a voice bellowed earth-shatteringly loud enough to leave her ears ringing for a moment.
Ah. Wonderful. Neighbors.
She scowled. All that concern over what seemed like nothing. Another pilgrimage to the "welcoming" embrace of the Icewarden.
They better not move in near me.))
Kadira's Story:
Born into slavery, life was hard from the start. Knowing nothing else, Kadira had no hope for the future. All that mattered was surviving another day, harsh work, keeping out of sight of the Keepers, begging for scraps from the other slaves. Life was bleak.
One day, a skydancer stepped in between Kadira and a Keeper, taking the beating meant for her. Kadira asked "Why? No one will risk the wrath of the Keepers, so why would you?" The Skydancer answered "Because no one deserves this life, least of all you." From that day forth, they were inseparable. Kadira learned that the others name was Farabuti, and that she had been a slave for longer than Kadira had been alive. Life went on, they took it day by day. When one had incurred the ire of the Keepers, the other protected them, picked up the slack, nursed them to health, it was a beautiful friendship.
Then one day, they were rescued, by a pair of mates named Drizzt and Kellindil. Now free they rejoiced and pledged their allegiance to the Do'Urden clan. Over time Kadira came to realize something amazing, she had fallen in love with Farabuti. But such love was taught to be forbidden in the ghettos of the slaves, so she kept it quiet. As the days flew past, Kadira became more and more of a recluse, she wouldn't talk, wouldn't eat, and slowly fell into depression. Kellindil noticed that something was wrong with her, and so when pressed for information Kadira told her of her secret love. "We do not forbid such things here, you are free to love who you choose." said Kellindil. Fortified with this knowledge, Kadira raced to Farabuti's hovel, brimming with joy at finally being able to be with the one she loved. Yet when she arrived, a sight greeted her which stopped her heart cold. Farabuti was entangled in a embrace with Durin, a dragon who had been freed in the raid with Kadira and Farabuti.
Heartbroken, Kadira flew off to her home, weeping in despair. For days, she never left her hovel, sinking deeper into depression she came to the sudden realization 'Farabuti is happy, I can never ask for more'. Numb, she went before the clan father, Drizzt, asking where the most help was needed. "We are in dire need of soldiers, eventually, we plan to clean out the Keeper's organization and free all of the slaves in one go. If you are interested, we can train you to fight for the clan and the freedom of these dragons." What did she have to lose? Kadira agreed, the very next day she woke at dawn to train with the other warriors. Every day she worked herself into the ground, never taking a break, and falling into her hovel every night exhausted. There was no time to think, no time to feel.
Then the day came when Drizzt pronounced her ready to join the raids "I am very proud of you, never have I seen a dragon fight so well, nor complete the training so fast." Feeling exhilarated, Kadira again flew to where she knew Farabuti would be apprenticing with Antaria, the clan's seer. At the Seer's hovel, she was about to enter when she heard voices, curious, she waited. "Congratulations on your nest, are you sure you are ready to come back so soon after birth?" "Thank you, no I am sure. Durin is minding the eggs. I wanted to thank you for all of your help, if not for your advice, I never would have had the courage to approach him." "It was no trouble darling, I'm always here if you need to talk. Now if you insist on helping, the herbs need sorting.."
That was all she needed to hear as she spread her wings recklessly and knocked over some pottery by the entrance as she took off. Kadira ignored the calls for her to return and flew faster than she ever had before 'she doesn't need me, Farabuti had everything. A dedicated lover, a full nest, I don't fit in her life anymore..." Filled with despair, Kadira didn't notice where she was going when she collided into a formation of dragons, knocking her into the ground. When the dust cleared, she looked up into the furious eyes of Lacali, one of the best warriors in the clan. "What is the meaning of this?" He whispered quietly. "What is so important, that you must interrupt my training session?" Kadira met his eyes furiously "Well maybe you shouldn't have been in the way!"
Silence. Kadira, slowly realizing her mistake, quickly made to apologize. Just as she was about to however, a ring of laughter echoed through the training grounds. Stunned, she could only watch as the most feared dragon in the clan busted out into laughter, doubling over in mirth. Lacali chuckled "Never have I met so much fire, so much spirit, in one little dragon. Tell me, what is your name little one." "Kadira..." she whispered, rooted to the spot in fear. Lacali cocked his head and took a good long look at her. "Yes...such fire...you would make a perfect soldier for the Shadowbinder, I daresay you would be welcomed with open arms into her ranks." Stunned, for the second time within minutes, she quickly recovered and asked excitedly "Truly? You really think so?" "Yes, the Shadowbinder is always recruiting for her hordes. It would be an honor to be counted among her blessed soldiers." Thinking on this, Kadira made her decision "Then I will join her cause, for what better recommendation do I need then Lacali's? I am no longer needed here..." she closed her eyes in sadness.
Lacali looked on "If you need a purpose, if you feel you need to run from your problems, then there is no better place to go than in the service of the Shadowbinder. I will say no more on the matter." And with that, he turned toward the new recruits and barked at them to fly back into formation. Now with a purpose, Kadira flew to the clan father, told him of her decision, and begged him of his blessing. Drizzt looked to her in sadness "I know why you wish to do this, and know that I do not approve. However, if this is truly what you wish, than go with clan Do'Udern's blessing. Honor us, in service to the shadow mother." His mate, Kellindil, stepped in "It might be wise to tell Farabuti of your leaving, she will be heartbroken if you leave without telling her why." Kadira shook her head "No, she is happy where she is, I have no wish to spoil that with my foolish desires."
And with that, she took off, leaving behind all her worldly possessions. She traveled for days, before she came to the Forum of the Obscured Crescent. As she landed, she looked around, it was dead quiet, not a dragon in sight. Kadira took a deep breath and bellowed "My name is Kadira, of clan Do'Urden! And I come before the Shadowbinder to pledge my self to her cause!" Nothing moved.
Then suddenly, shadows formed in the center of the pit. A dark sickly sweet voice echoed, "You are bold child...I like that. I accept your offer." Kadira gulped, she was now in the service of the great and terrible Shadowbinder.
Recent Clan Activity
[View All]
10/09
Birthed new hatchlings!
2 Nocturne Male

10/06
Birthed new hatchlings!
1 Nocturne Male, Nocturne Female

10/01
Birthed new hatchlings!
3 Nocturne Male

Antaria's Friends (9)








View All