 Tryvyal's Clan

AAAAAAAAAAAAAAAAAAAAAAAAAAAAAAAAAAAAAAAAAAAAAAAAAAAAAAAAAAAA
Ancient Lair
near
Aergate
-House Notus Crest, House Cup
Owner/Operator of Wind's HibDen Quest Bank! link:
This is an Exalting Lair! Your Dragon is destined for greatness and glorious service with Windsinger as a mighty hero or heroine! If you have decided they have tasks remaining and want them back, I'll return them for what I paid for them.
All dragons in my lair believe exaltation is the highest honor and are striving to be worthy. After feasting, hopeful exalt candidates accompany my finest warriors in coming-of-age camping trips into the most dangerous parts of Sornieth. When they return, after a celebratory lunch, they are introduced to Windsinger, who is a
living God
.
Services:
I write!
A short story incorporating your lore is 1200G. Examples of my writing are in my Perma's bios.
I Train!

Do you need a Coliseum Team? I can help! I can level dragons for you! Please see my training thread.
I'm burnt atm, and not coli-ing much.
For 12000T each, I'll make a coli starter team for you anytime: 3 dragons leveled to 7.
I have Mire Flyers for Sale, Windies only, 800KT/G. Here is
my Mire Flyer thread.
I also try to make pretty dragons. New hatchlings! I tend to exalt my hatchlings as soon as they're adults. If you want to buy any one of the dragons in my lair me know. Dragons to be exalted are exalt price, so a level 1 is 7000, a level 6 is 10000T, a 7 is 12000T. My Hatchies:
mostly
35G, Permas negotiable, some are not for sale.
If you need a dragon exalted, but you can't do it yourself and you don't want to put your dragons up on the AH, I will
respectfully name, feed and exalt your dragons
. I will buy them from you (7000T). I can also arrange to have them exalted to the flight of your choice.
Wishlist:
Any skins, accents, items, or apparel which are retired/impossible to get through normal gameplay from before Wavecrest Saturnalia 2018.
The sprites and other super hard to get and find familiars from when FR started.
Please make these dragons for me:
1. Coatl or Wildclaw female, xxy watermelon pear for my dragon Duskbright

Tired of looking at my poorly clothed dragons? I have so much to make Treasure for, I haven't put much effort into buying apparel and also I have no talent for it. I would appreciate help!:)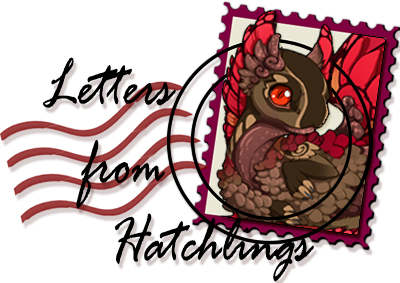 Badges:
Proud member of the Brewer's Guild (link)
Ask me about Wind Dominance! (links)
Wind VS Water July 29 2018-Aug 4 2018: SUPERSTORM
Survivor of the Attack on Wind 06/05/18 - 13/05/18
June 30-July 6 Push, Typhoon
MistJam 2020 Typhoon
More Badges on my Lore Dragon, Peachykeen.
Recent Clan Activity
[View All]
01/05
Birthed new hatchlings!
1 Wildclaw Male, 2 Wildclaw Female

01/05
Birthed new hatchlings!
1 Wildclaw Male, 1 Wildclaw Female, 1 Coatl Female

01/05
Birthed new hatchlings!
1 Imperial Male, 1 Imperial Female, 1 Nocturne Male

Tryvyal's Friends (82)






View All