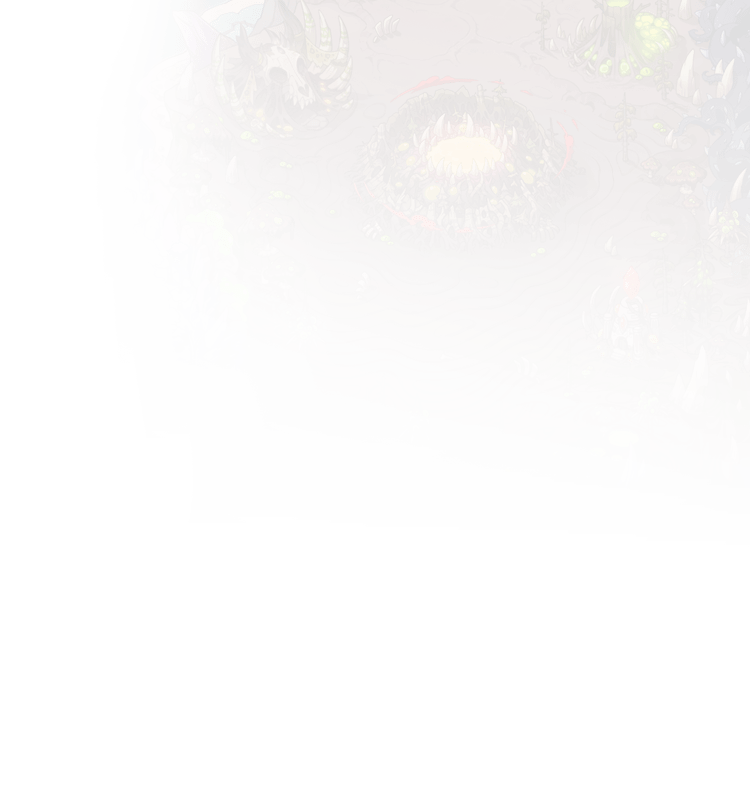 Fraud's Clan
Lesser Lair
enveloped by the
Wandering Contagion
THE FRAUDS

---

"Boo."

---

Strength:

✦✦✦✦✦✦

Intelligence:

✦✦✦✦✧✧

Agility:

✦✦✧✧✧✧

Magic:

✦✧✧✧✧✧

Your tattered feet stumbled across broken sticks, your skin tearing as you brushed against dead trees. The sky has fallen into a dark red, signalling that it was almost night. The dead forest seemed eerily peaceful, it's birds had retreated to their nests and the insects had hidden themselves for the night. This made you uncomfortable, you were alone, in this strange place. Fog clouded your vision, trees fell into each other as they became large, grey lines, you fell over and scraped your cheekbone on a wet stone, a startled growl escaping your terrified jaws. 'This seems like hell, only demons could live here' you thought, ambling towards a flicker of light.
As you approached, the sound of laughing rang in your ears, it seemed deep and masculine, belonging to something you wouldn't want to meet.
The light grew closer, and you realised it was a large bonfire. The smoke clouded your lungs and you found yourself gasping for breath. A small laugh made your ear flick to the side, another chuckle from behind you made you jump, and it soon dawned on you that you had just stumbled across the deep laugh's owner. You leapt to your feet, your heart pounding, nostrils flaring, pupils darting.
The same deep laugh pounded from in front of you, though no one was there. The laugh seemed to have come from a tall rock, over two metres taller than you. You blinked in wonder, but as soon as you opened your eyes, a large, male guardian had landed in front of you. His body was decorated with a wolf's head, a coat of some sort and gloves. He flicked his ears at you, a small spread across his face from under the wolf's serrated teeth, his threatening size daunted your thoughts.
"Boo."
He said, his jaws snapping shut. You leapt back, greeted with a bite on your hind leg, and a chuckle from a dragon to your left.
"Now now, Smee. We wouldn't want to scare our visitor away."
He said, advancing towards you. Smee, a dark red, blood stained coatl chucked in response. A small nocturne snarled angrily, clearly not impressed by your presence, it glared at the guardian.
"Peter, we ought to do something about this... this thing!"
It spat. 'Peter, huh?' you thought, now knowing what the daunting dragon was called.
"Peter, I demand you let me leave peacefully!"
Came from your jaws, a flood of regret powered through you as you realised what you had said. The guardian lowered his head, and snapped his jaws.
"I'm giving you 3 seconds."
"For what?!"
You mumbled frightfully, the guardian moved forward with his eyes upon your neck, your chest heaving for air due to the adrenaline from the whole situation.
"To get the hell out of my clearing."
He roared, his tone now harsher than before, striking a nip at your lower jawline. Before thinking, your wings took off, leaving the clearing with only minor injuries.
You stopped and looked back, your legs shaking as you shakily mumbled to yourself.
"So the Frauds do exist..."
[/columns]
Recent Clan Activity
[View All]
10/31
Earned: Plague Egg
Find or obtain an unhatched Plague Egg.

10/30

Earned: 50,000 Treasure
Earn a total of 50,000 treasure for your Clan.

09/14
Became friends with Glitterbum.
Maybe in a few years they'll write a buddy comedy about you guys.

Fraud's Friends (1)

View All