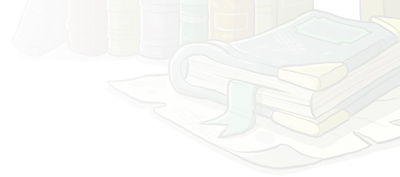 Crossroads
Learn more about trading items, currency, and dragons.
Overview
Crossroads is
Flight Rising's
dedicated trading system. Players can utilize this system to swap items, exchange currencies, and even trade dragons to one another. These items can be mixed and matched to meet almost any trade agreement.
Trade Anything, for Anything!
Utilizing the Crossroads, you can perform almost any trade scenario you can imagine. Some examples are:
Feel like trading a couple dragons for a few stacks of food and a battle stone? You can do that!
Do you want to exchange gems for treasure? You can do that!
Do you have several familiars and pieces of apparel that you'd like to privately sell for treasure? You can do that!
Are you selling a themed dragon that comes with a bundle of apparel that matches its genes? You can do that, too!
Secure, Logged Transactions
Crossroads includes a trade details chat, wherein players may exchange messages and coordinate the parameters of their deal. Once the trade has been completed, it will be saved in a receipt for both players to reference at a later date, chat and all. This chat may come in handy if players want to refine negotiations before committing.
Each trade requires both parties to review and accept one another's contributions before moving to a finalized stage, and each party has the option to cancel the trade if they so choose, up until its finalization by the starting player.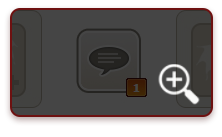 Just Want to Send Something?
If you don't need to conduct a two-sided trade agreement, you can also use the Crossroads to send items and dragons in a one-way delivery. These deals are "fast-tracked" directly to the finalization phase for the receiving player and need only be accepted or rejected to be completed. You can learn more about one-way deliveries by mousing over the two buttons at the beginning of the trade process.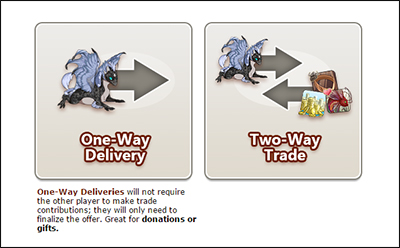 FAQ
(Updated March 5th)
Q: Is there a fee associated with using Crossroads?
A: No fees (excluding any you may impose in your agreement)! You can conduct Crossroads trade without using currency at all.
Q: How much can I trade at once?
A: You can trade up to three dragons, 36 unique stacks of items, and whatever amount of currency you want in your part of the trade deal.
Q: I'm concerned about being scammed. Is there any way a player could do this?
A: No. Both players need to agree to the other's contributions before a deal can be finalized/completed. If for some reason the dragons, items, or currency laid out in the contribution windows is no longer present in one or more of the parties' inventories (say one person moved all their contributions to their Vault), an error will be generated when an attempt is made to finalize it. It isn't possible to renege on your end of the deal. Additionally, both parties may manually cancel the trade up until the starting player finalizes it.
Q: What if my trade partner uses the trade details chat to harass me?
A: If you feel you are being harassed in a trade, please send a message through
Contact Us
listing the trade ID (found in the URL); staff and Customer Support representatives can read the chat message to investigate.
Q: Will we still be able to use the old version of Crossroads?
A: No. The old Crossroads system has been removed.
Q: Some of us are concerned that this system lengthens the dragon trading process and slows down Dominance battle activity - is there any consideration being made for this playstyle?
A: For those that are familiar with the previous Crossroads version, this system is going to add an additional step (and some time) to dragon trades. While we did our best to avoid disrupting quick-trade gameplay (i.e. One-Way Deliveries were added as part of a solution to this), to make an all-encompassing asynchronous system we had to remove the ability to pre-select your trade partner's dragons. However, while Dominance-related trades may be slower for now, remember that they are slowing down unilaterally across the site while everyone becomes more familiar with the flow of the system. Additionally, because it is now possible to attach up to three dragons to each Crossroads trade, it could potentially expedite that process a bit.

We'd also like to let the system soak for awhile to see where possible pain points are, and examine how best we can solve those problems with additional/other development solutions, if necessary. For instance, our original design philosophy for Crossroads wasn't to facilitate mass movements of dragons (like in the case of Dominance battles), but we understand that it's a popular medium for that now. That feedback has definitely not fallen on deaf ears, we promise.

While we cannot guarantee a direct solution to the above concern right away, we feel it's important to wait and see how the Dominance playstyle evolves under the new system before making huge changes.
Q: I canceled a trade/delivery, but I can't find the receipt for it. Where is it?
A: In order to maintain a smooth experience, we don't keep database records or chat logs of trades that are manually canceled. We recommend keeping a contact channel open with your trading partner (either via the message center or forums), just in case you need to discuss why the trade was canceled.
Q: If we can send items and currency through Crossroads, will this functionality eventually be removed from the Message Center?
A: Absolutely not! Nothing is changing about the Message Center, and you will still be able to use it for item and currency attachments like normal.
Q: When I receive a dragon, where will it end up in my lair?
A: All dragons that are traded to you will automatically go to the end of your lair.
Q: Am I able to trade my progenitor (starter) dragons?
A: No. Progenitor dragons cannot be traded.
Q: Oops! I made a mistake in my contributions, is it possible for me to edit the trade before it's finalized?
A: Unfortunately not - the trade will need to be canceled by either you or your trade partner and restarted with the intended contributions. Both players have the option to cancel a trade (either via the Pending Trades page, or on the page of the trade itself) up until the moment it is finalized.
Q: When attaching dragons to a trade, will Crossroads only show me dragons that are eligible to be traded?
A: No, all dragons in your lair will show up in the dragon attachment window, but if you attempt to finalize a trade that contains a dragon that does not meet eligibility standards, an error will tell you why. Additionally, the dragon attachment window will exactly mirror your lair layout/pages (so like, a "mini lair"), so it should be a bit easier to find what dragon you're looking for as long as you know what page it was on in your lair.
Q: Is my trade partner able to see my Hoard and currency totals?
A: No, the contents of your Hoard, Vault, and your currency values are kept private.
Q: I'm a little confused about how many steps are involved with this system. Could you provide some clarity on that?
A: Sure! Here's a simplified flow chart about how Crossroads trades will flow under the new system:
Q: Am I able to conduct multiple trades with the same player at the same time?
A: Yes! We knew this was a huge request, especially for Dominance.
Q: With the system becoming more complicated than its predecessor, I'm concerned that the site will experience performance problems. Could this happen?
A: We don't anticipate any performance issues. In fact, one of the main reasons Crossroads was revamped was not only to add more functionality, but to rehaul its codebase to be much cleaner and more efficient. We are in the midst of a full site-wide code refactor, and this is just another notch in that progress. If anything, Crossroads' impact on the site is going to be improving, not getting worse.
Q: Are there any improvements to the dragon attachment window? In the previous version of Crossroads it was very cumbersome to get to the dragon I wanted to trade.
A: We've got great news in that department. In addition to the dragon attachment window mirroring your lair layout, it has clickable page numbers in addition to navigation arrows. You can jump to any page very quickly.
Q: I like that the previous version of Crossroads sent me notifications about what was going on with my trades. Does the new version do this?
A: Yes! The new version of Crossroads sends personalized and clickable alerts for the following events:
When another player initiates a trade with you.
When a new message is added to the Trade Details Chat.
When a trade has been updated with your trade partner's contributions.
When a trade has been finalized and completed.
When a trade has been canceled.
Q: Is it possible to see information about dragons that are attached to a trade? I'd like to review the dragons' details before moving forward with the trade.
A: You bet! Hovering over any attached dragon will show you the same tooltip you see in your lair. Left-clicking on an attached dragon will open that dragon's profile in a new tab.