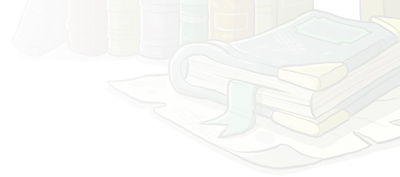 Joxar's Spare Inventory
Spare Inventory from Festive Favors
Festive Favors is open for one week each during each elemental holiday, which takes place during the end of each month. There are two sections in the shop.
The Elemental Festival Shop
, and
Joxar's Spare Inventory
.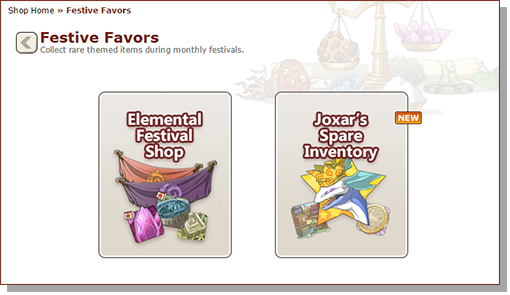 Joxar's Spare Inventory
allows each player to purchase
one
Spare Inventory Crate
each holiday. Players may also use this monthly shop to spend Prismatic Tokens to purchase unique color variant items ala carte!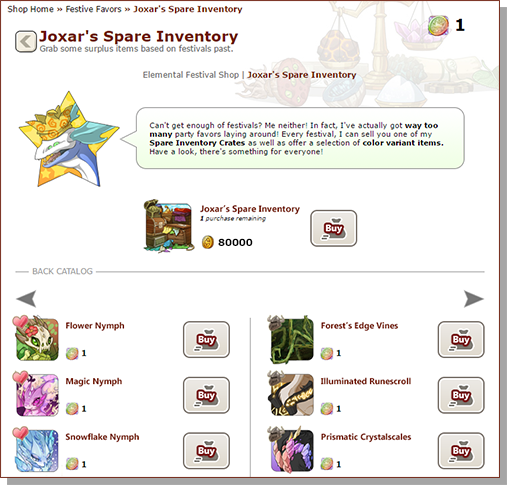 Spare Inventory Crates
1
Spare Inventory Crate
may be purchased each holiday for 80,000 treasure. Spare Inventory Crates will open to reveal 2-3 items:
1 color variant or past holiday item. (guaranteed)
1 Prismatic Token (guaranteed)
1 chance at a past holiday skin from the June 2016 onward. (bonus chance, not in every chest!)

Prismatic Tokens
We wanted to keep the crates fresh and engaging for returning players who may already own all the holiday items, while still offering players a controlled chance at past holiday items from the 2016-2017 holiday season and beyond. To facilitate this, crates may drop past holiday items OR unique color variants of past holiday items! Because some players will have the former via holidays, but there's no other way to gain the color variants, we introduced a more reliable way for players to be able to collect the color variant items.
1
Prismatic Token
will drop from each and every spare inventory crate. This item may be used in Joxar's Spare Inventory to pick and choose color variant items. Yes, this means that every Spare Inventory Crate will give you one item, and a token that can be exchanged for a second item! Joxar's Spare Inventory shop will only ever offer color variants in exchange for prismatic tokens. If you want a past holiday item, you will need to purchase them from other players, or hope that the dice roll in your favor when opening the chests!
Alchemists with
level 16
or above also have the opportunity to brew prismatic tokens through
Baldwin's Bubbling Brew!

Color Variant Items
Below you will find the unique color variant items that have a chance to be obtained from
Spare Inventory Crates
, or may be purchased directly with
Prismatic Tokens
from
Joxar's Spare Inventory Shop
.
Past Holiday Items in Spare Inventory Crates
The following are the applicable past holiday items that have a chance to drop from Spare Inventory crates.
Bonus Skins
Holiday skins from Brightshine 2016 onward are available as a bonus chance in Spare Inventory Crates. Because they are so numerous, we have created a page exclusively to
catalogue them
.
Beginning June of 2018, elemental bears and color variant bears from our 2nd holiday season and Night of the Nocturne event will be moved to Joxar's Spare Inventory as a bonus chance item: